25 Years and Growing!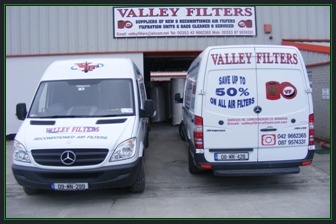 Located in Carrickmacross, County Monaghan in the Republic of Ireland, Valley Filters was established in 1993 and has emerged as a major provider of innovative solutions in manufacturing, re-manufacturing and reconditioning of heavy duty and industrial air filters.
Our customer base spans the industrial, construction, agriculture, transport, heavy machinery and drilling industries across Ireland and the UK.
Valley Filters is unique in its field and with over twenty five years of trading with our valued customers throughout Ireland and the United Kingdom has earned a reputation in the industry for providing a service which is effective, competitive and cost saving.
Our commitment to our customers, coupled with our proven expertise and problem-solving abilities enable us to offer a top quality alternative solution in a variety of filter service situations. We are confident that Valley Filters will continue to meet the needs of our industry with quality products, customer service and exceptional value.
Our customer service staff always have the customer in focus and are available to answer your questions and track your orders.
We have plant systems in place devoted to tracking, inspection, and quality control throughout the filter cleaning, filter remanufacturing and inventory control departments.
Technical support and consultation is always at hand through our in-house technical staff who are specialists in air filtration knowledge, part cross referencing and problem-solving.